A local restaurant is faced with potential closure and the Castro Courier covers it. El Tecolote explores the plight of homeless students. The San Francisco Bay View reports on a town-hall-style meeting about income inequality. Across San Francisco, neighborhood newspapers find news that's under the radar for larger publications.
By Ida Mojadad
When San Francisco passed the 2011 Twitter tax break, a controversial incentive program, it made the rounds in national publications as a notable moment for the tech industry.
Extensive reporting on the disempowerment of the program's Citizens Advisory Committee and displacement of Tenderloin residents that followed, however, came from Central City Extra, the monthly neighborhood newspaper run by a local nonprofit.
After 16 years, the San Francisco Study Center ceased publication of the Extra in February and left its readers, who lack the disposable income attractive to advertisers, without easily reached updates on the neighborhood.
"If we weren't telling people about it, no one was," Study Center Executive Director Geoff Link said of the tax break coverage. "Without a publication, we can't say anything about anything."
The remaining 13 neighborhood papers that make up the San Francisco Neighborhood Association continue to serve residents who otherwise wouldn't know what's happening down the street from them.
"We break stories the [San Francisco] Chronicle is never going to cover," Westside Observer and Castro Courier publisher Mitch Bull said. "I think the hyperlocal news needs to continue to exist and not just in the blogosphere."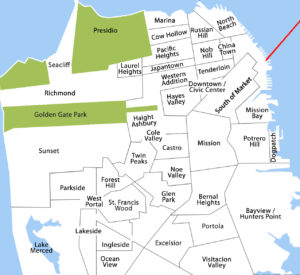 In the Mission, bilingual paper El Tecolote has a lot of credibility and support from the community for being there every day, Advertising Manager Mabel Jimenez-Hernandez said.  Through weekly bingo games, the community itself provides much of the funding to keep the paper printing.
"There's a lot of people who say print is not relevant—that assumes that the readers have access to the internet and that the community happens to be monolingual," Jimenez-Hernandez said. "Our population tends to be invisible to the mainstream readership."
Neighborhood papers pride themselves on bringing news to readers not seen in bigger papers that don't have the resources to cover each neighborhood in depth—awareness they feel is vital to being an engaged city dweller.
"I don't believe that citizens can participate in the civic atmosphere without having good information about what's happening around them," Potrero View Publisher Steven Moss said. "The ability of news outlets to cover news has shrunk. We try to step in where we can."
Here is a rundown on the city's neighborhood newspapers, as described by the San Francisco Neighborhood Newspaper Association:
Castro Courier
The Castro District, with its bountiful supply of Victorian homes, was once known as Eureka Valley. After World War II, when thousands of gay men, many of them ex-sailors, converged on San Francisco, the area became "the gay Mecca" of California. The neighborhood eventually was christened the Castro and gained national attraction in the 1970s with the Gay & Lesbian Pride Parade and the assassinations of Mayor George Moscone and Supervisor Harvey Milk, who was one of the first openly gay elected officials in the country.
Today, the neighborhood is a vibrant business district with many gay-themed and -owned shops and restaurants, though heterosexuals are always welcome. The neighborhood is also for known for the fabulous Castro Theatre, which is the preferred venue for many of San Francisco's film festivals, as well as independent and foreign films and restored classics.
Dolores Park, which offers spectacular views of San Francisco, is a favorite for children, dog owners, sunbathers and performance groups like the SF Mime Troupe, SF Symphony and the annual Dyke March festival.
Publisher: Mitch Bull
Website: http://www.castrocourier.com
El Tecolote
Today, the Mission is a crossroads for many immigrants, making it the center of San Francisco's most vibrant street life. Not just for the 60,000 living within its borders, but also as the home of the Mission Miracle Mile which, by day, is a vibrant working-class shopping street and, by night, the coolest 20-something pub-cruising zone in San Francisco.
Since the 1950s, the Mission's dominant culture has primarily Mexican which eventually gave way to a new immigrant wave from central and South America and the Caribbean.
The art scene in the Mission is world-renowned for its murals, music (Latin jazz and rock musicians such as Carlos Santana); theater (the Victoria Theater, Theatre Rhinoceros, Traveling Jewish Theatre, Brava Theatre Center for Women); film (the Roxie movie house and Artists Television Access); dance (ODC and Mission Dance Theatre), and institutions like the Mission Cultural Center for Latino Arts, Galeria de la Raza and the Precita Eyes Mural Center.
El Tecolote newspaper has been publishing since 1970, making it one of the longest running largely all-volunteer bilingual newspapers in the Bay Area.
Though Jimenez-Hernandez said they can't do all the projects and partnerships with a small staff and funding challenges, the team and mission feels stronger as every one has more say. As the core team has been around for a few years, things are falling into place.
"I think we're going through a renaissance period," Jimenez-Hernandez said. "It's a very encouraging time right now."
Advertising: Mabel Jimenez-Hernandez
Website: www.eltecolote.org
HATCH Beat
Encompassed by the eastern entrance to Golden Gate Park on one side and Turk, Market and 17th streets around, HATCH Beat territory covers several neighborhoods, each carrying a distinct personality, ranging from the Van Ness performances arts district to the haute couture commercial district of Hayes Valley where Victorian, Queen Anne and Edwardian townhouses are mixed with boutiques, restaurants and public housing complexes. Further in, views of Postcard Row can be enjoyed while overlooking a downtown San Francisco backdrop in Alamo Square's namesake park, with nearby cafes, shops, concert venues, restaurants and nightlife available on Divisadero, gateway to the more intimate and eclectic next door neighbor (and home to most of the Wiggle), Lower Haight; 60s counter-culture merges with contemporary culture for tourists and locals alike as a hangout and shopping destination in Haight-Ashbury, home to the Cranston-Keenan Grateful Dead house (not to mention the homes of The Hell's Angels, Janis Joplin, Charles Manson and others), as well as Buena Vista Park, one of the city's oldest parks, and the annual Haight-Ashbury Street Fair. Cole Valley is tucked away near Haight-Ashbury, a quiet community-oriented corner of San Francisco with one of the best prosciutto sandwiches in the city and a great view atop the 600-foot-high Tank Hill. The Panhandle, transformed from sand by William Hammond Hall, is a bustling commuter corridor and gathering place used by many. Some of the city's best Victorians are found within HATCH territory, especially in NOPA, where the weather tends to be less foggy than the rest of the city.
Publisher: Liz Fedak
Ingleside-Excelsior Light
Although the south central region of San Francisco possesses the most equal distribution of demographics in the city, it has the most children. The business corridors are quickly developing into transit villages that promote sustainable living. City College of San Francisco, a vibrant community college that serves one in 10 residents, is the heart of the area.
Publisher: Alex Mullaney
Website: www.ielightsf.com
Marina Times
Published monthly since 1986, the Marina Times provides "hyper-local" news coverage of important trends and developments that impact the quality of life in San Francisco's affluent northern neighborhoods which include the Marina, Cow Hollow, Pacific Heights*, Russian Hill, Nob Hill and North Beach. Regular coverage includes: local news and information, profiles of community leaders, calendar of events, arts and entertainment, restaurant reviews, food and wine, business and finance, health and fitness, shopping tips, technology reviews, weekend getaways, home and garden, real estate, family, and pets.
Marina Times readers are active and influential stakeholders who shop locally. They read the Marina Times to stay informed and to assist them with their dining, entertainment, and purchasing decisions. They are affluent home owners (62%) with disposable income (Median Household Income is $159,019), well educated (82% College degree or higher), and Professional/Managerial (78%).
Publisher: Earl Adkins
Website: http://www.marinatimes.com
The New Fillmore
Ask a Bay Area resident to describe "Pacific Heights" or "The Fillmore" districts of San Francisco and you'll repeatedly stumble upon the same adjectives: upscale, Victorian, stunning, even historic. The grand Pacific Heights homes boast luxurious balcony windows, brilliantly crafted gates and ivy-covered walls. Many are more than 100 years old and beautifully illustrate the city's artistry and craftsmanship. Deep green parks, such as Alta Plaza, overlook scenic city views. Meanwhile, Fillmore Street defines charm amidst boutiques, restaurants and gift shops. Visit these neighborhoods and prepare to be impressed.
For those who desire coffee, literature and fine clothing, try Fillmore Street. The Clay Theater offers independent cinema while heartily brewed coffee can be found at various corners. Quality newsstands provide hip and stylish magazines, such as Wallpaper, Flaunt and Nylon, and the narrow streets create ideal strolling opportunities. The Fillmore is a local favorite for many Pacific Heights residents with good reason.
The newspaper's name, The New Fillmore, comes from the constant reinvention of the neighborhood, Publisher Thomas Reynolds said. The paper often does features on neighbors and keeps broader city news out in order to focus on the area.
"In the people we find the best stories," Reynolds said, adding that it adds a human aspect. "It really feels like The New Fillmore is the connective tissue of this area."
Publisher: Thomas Reynolds
Website: www.newfillmore.com
Noe Valley Voice
Nestled on the eastern slopes of Twin Peaks and surrounded on three sides by hills, Noe Valley has the feel of a small town within a big city. "Downtown Noe Valley" is a concentration of businesses along a five-block stretch of upper 24th Street, but most locals extend the boundaries of greater Noe Valley to Grand View Terrace, Dolores Street, 21st and 30th streets.
Noe Valley has public and private schools and is well served by the Muni J line and several bus routes. The Noe Valley Sally Brunn branch of the public library system and a Saturday Farmers Market are within easy walking distance. The parks are well used and many restaurants have lines of people outside waiting their turn while watching kids in strollers.
Publisher: Jack Tipple
Website: www.noevalleyvoice.com
Potrero View
The View serves the Dogpatch, Mission Bay, Potrero Hill, and South-of-Market neighborhoods. This diverse area was once the heart of the City's industrial and commercial fishing activity, complete with canneries, warehouses, and factories.  Today it's a rapidly growing residential and commercial center, with a number of large public and private sector facilities, including the Culinary Academy, University of California, Mission Bay campus, and Anchor Stream Brewery.
View readers tend to be upper-income European-Americans, as well as long-time African-American residents, with strong loyalties to local businesses and their community in general.
"There was sort of an old guard," Moss said.
While Moss said the new community engages in the community less frequently, he believes they will over time.
Publisher: Steven Moss
Website: http://www.potreroview.net
Richmond Review
The Richmond District is located in the northwest corner of San Francisco, nestled in between Presidio National Park and the city's Golden Gate Park. The neighborhood, which includes Sea Cliff and Laurel and Presidio Heights, is home to about 80,000 people. About half of Richmond residents are of Asian ancestry, primarily of Chinese and Korean descent. There is also a large Irish population and many recently arrived Russian immigrants.
Several vibrant commercial areas, including California Street, Clement Street and Geary Boulevard, serve the neighborhood. The 1,400 merchants and small offices in the Richmond District offer a wide range of goods and services.
Local landmarks include the Cliff House and the Beach Chalet at Ocean Beach, the V.A. Hospital at Fort Miley, University of San Francisco and numerous holy houses, including Temple Emanuel, St. John's Orthodox Church and St. John's Presbyterian Church. There are numerous attractions in Golden Gate Park, including an American Bison pen, M.H. de Young Memorial Museum, California Academy of Sciences, Strybing Arboretum, the oldest children's playground west of the Mississippi River and a 9-hole golf course.
Publisher: Paul Kozakiewicz
Website: https://sfrichmondreview.com/
San Francisco Bayview
To its 33,000 residents, Bayview Hunters Point, the southeast corner of San Francisco, is the city's best neighborhood; our climate the sunniest, our views the most spectacular. Big developers see these attributes, too, and the struggle for control of this jewel of a neighborhood in the most visited city with the most valuable real estate on earth has been joined.
With much of what little land in San Francisco remains to be developed, Bayview Hunters Point is a developer's dream. While local builders dream of renovation and rebuilding projects that will put our people to work, some of the nation's largest developers dream of "repeopling" this 91 percent community of color and uprooting our deeply rooted and interconnected people who, with meager resources, have attained the highest rate of homeownership in San Francisco. And those big developers are using their financial clout and political connections to implement their dreams.
Our journalistic challenge at the Bay View is to cover this epic struggle, reflective of and instructive to other inner city neighborhoods where those who fled decades ago now want to return, and to advocate for justice.
Publisher: Mary Ratcliff
Website: www.sfbayview.com
Sunset Beacon
The Sunset and Parkside Districts were once known as the "great sand waste." Located on the west side of San Francisco, between Golden Gate Park and Stern Grove, the area today is inhabited by about 75,000 people, living mostly in single-family homes. About 55 percent of the population is of Asian – mostly Chinese – ancestry with the remainder of primarily Irish and Italian heritage.
The Inner Sunset is located near the University of California, at San Francisco, one of the leading scientific research institutions in the world. This neighborhood sports many superb restaurants and bookstores to serve a diverse clientele.
The Outer Sunset has many world-class views of the Pacific Ocean and boasts the largest percentage of single-family homeowners in the City. Recreational activities include hang gliding at Fort Funston, surfing, fishing, and biking.
There are numerous attractions in Golden Gate Park, including an American Bison paddock, flying disc golf course, Conservatory of Flowers, M.H. de Young Memorial Museum, California Academy of Sciences, Strybing Arboretum, the oldest children's playground west of the Mississippi River and a 9-hole golf course.
Publisher: Paul Kozakiewicz
Website: https://sfrichmondreview.com/category/sunset-beacon/
Westside Observer and West Portal Monthly
"Villages within the city" is the best way to describe the "West of Twin Peaks" area of San Francisco. Bounded by the Pacific Ocean to the West, Daly City to the South, the Sunset District to the North and the Twin Peaks hills to the East, the enclaves that make up this diverse southwestern section of the city are among the most diverse within San Francisco.
West Portal Avenue, Lakeside Village and the Ocean Avenue corridors offer shoppers an eclectic mix of small boutiques, trendy restaurants, and locally-owned service related businesses. It's not unusual to stroll down the street and see local San Francisco celebrities and politicos sipping coffee at a corner café.
Further South, the Stonestown Galleria is one of the largest regional shopping centers in the Bay Area, with retailers such as Nordstrom, Macy's and Williams-Sonoma listed among the 120+ stores that attract and delight shoppers.
For many, it is the many residential "villages" that symbolize the spirit of the area. Home to many of San Francisco's most active homeowners, the area is steeped in political activism, and usually has the highest voter participation within the city. Neighborhoods such as St.Francis Wood, Forest Hills, Miraloma Park, Merced Manor, Lakeside, Parkside, Lake Merced, Taraval, Ardenwood, West Portal and Parkmerced give the area its' unique mix. The Parkmerced development, built in the 1940s is one of the largest planned residential developments in the Western United States and features open space gardens designed by the famed landscape architect, Thomas Church. The 7000+ unit development, made up entirely of renters, comprises a mix of high-rise and low rise units that make up about 1% of San Francisco's population.
Recreational activities also rank high on the list of things to do. A summer concert at (Sigmund) Stern Grove, a walk around Lake Merced, hang gliding at Fort Funston, or a round of golf at Harding Park Golf Course are just a few of the many ways one can exercise the mind and body while being only minutes from the San Francisco Zoo, and Ocean Beach.
With two colleges, San Francisco State University, and City College of San Francisco (a 2 year school), and highly ranked public and private elementary, middle and high schools, the West of Twin Peaks neighborhoods provide many different educational opportunities for its residents.
Westside Observer Publisher: Mitch Bull
Website: www.westsideobserver.com
West Portal Monthly Publisher: Glenn Gullmes
Ida Mojadad is Bay Area-based journalist recovering from the, yes, cold of Minnesota, where she covered education and Rice County youth. She was once an intern for the Orange County Register, KQED's Forum and SF Weekly.